BP must not be allowed to risk the Pristine Wilderness of the Great Australian Bight Whale Nursery
BP Developments Australia Pty. Ltd. (BP) plans to begin drilling for oil off the coastline of the Great Australian Bight in an Australian Marine Sanctuary. Their drill plan states the exact well locations have not been determined but are expected to range between 1,000 and 2,500 metres deep in an area located about 395 kilometres west of Port Lincoln and 340 kilometres south-west of Ceduna and will have environmental and economic impacts on marine reserves, whales, tourism and the fishing industry.
Since the Deepwater Horizon accident in the Gulf of Mexico, BP says, the oil and gas industry has developed significant capability to cap well blowouts,leading to a substantial reduction in the anticipated duration of uncontained hydrocarbon flow. BP states, "Studies estimate that capping equipment can be mobilised and deployed to site within 35 days of a 'loss of well control' event occurring".
Bob Graham, Co-Chaiman, National Commission on the BP Deepwater Horizon Oil Spill and Offshore Drilling states, "we found first that this was a totally avoidable accident. It was not an act of god, it was an act of men operating badly. Number two, that there was a culture within BP and much of the rest of the offshore oil and gas industry which put dollars above safety". (ABC Four Corners)
In its Oil Spill Modelling BP estimates that the earliest oil will reach shore in 21 days (near Esperence, Western Australia). That is 14 days of uncontrolled devistation to a coastal region that inhibits access from land and sea. With no oil spill response the 'Peak Oil Ashore' will occur 50 to 150 days after blowout. (Source: GAB Oil Spill Modelling)
Further, deterministic simulations for the summer season showed that the maximum amount of oil on the shoreline peaked at 810 tonnes after 86 days, with 227km of coastline impacted. This increased to a maximum of 240km of coastline after 100 days due to the remobilisation and re-deposition of oil on the shoreline due to wave action and tidal cycling.
Wilderness Society South Australia director Peter Owen said the company was, "desperately trying to open up a new oil drilling province while the world turns its back on the flailing fossil fuel industry".
"Pushing to expand the fossil fuel industry is the height of irresponsibility. We must rapidly transition out of fossil fuels to have any chance of providing our children with a liveable climate". . .

Is that All We get from the Australian Prime Minister... Disappointed?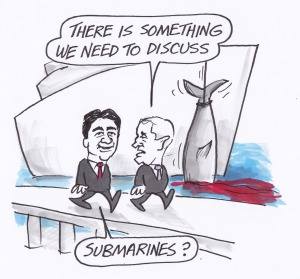 Japan has asked to build submarines for the Australian Navy
Australian PM Malcolm Turnbull has said he is "very disappointed" by Japan's decision to resume Antarctic whaling as he began a brief visit to Tokyo, his first since becoming leader in September. Japan's whaling fleet set out for the Southern Ocean again earlier this month, with a target of 333 minke whales, a decision that has sparked a formal protest by 33 countries.
Japan's whaling is no longer a 'disappointment' or an 'emotional issue'. No longer are Japan's actions a 'difference of opinion' or about 'vested interests' or 'friendship', as has been said endlessly. Japan's actions are CRIMINAL since the International Court of Justice (ICJ) in 2014 ruled Japan's slaughter of whales in the Southern Ocean was NOT SCIENTIFIC and had to stop. In the Australian Federal Court the Humane Society International (HSI) with help from the Environmental Defender's Office fought and won a case against the Japanese company Kyodo Senpaku Kaisha with evidence that on four occasions the whaling company caught minke whales within waters off Antarctica that are designated as a whale sanctuary by Australian environmental law. Kyodo Senpaku Kaisha was fined A$1,000,000
Chief Executive Michael Kennedy (HSI) says, "Japan always claimed it was doing its work legally. Well our court case in 2004 and the ICJ in 2014 proves that nothing they do in our view is at all legal."
The Australian Government has the 'Will of the people' and the 'Law', both domestic and International, on its side. It is time to act.
There can be no submarine contracts with Japan (there are other options) and the Japanese whalers must be turned back. Physically turned back... blockaded from entering Australia's Antarctic EEZ.
The Sea Shepherd Vessel Sam Simon must, no longer, be the only defender of whales in the Southern Ocean. The Australian Government must stand up and stop the whalers. They are poaches heading to a Whale Sanctuary to murder and butcher the animals the Sanctuary protects and Australia manages (AAT) on behalf of the world. In parts of Africa wildlife poaches are shot and killed. That is a horrid position for a Government to be in but the Japanese poaches in their Factory Ship, the Nisshin Maru, must be turned back to Japan without killing one whale.
The Australian people demand it... the World demands it.
2013-2014 Antarctic Anti-whaling Campaign - Operation Relentless
What are whales telling us about Earth?
Recent reports clearly show that the whales are helping researchers determine atmospheric science, Arctic oceanography, the extent of global warming, marine food web nutrition and record breaking migration patterns...

Taiji, Japan Dolphin Slaughter
| | | |
| --- | --- | --- |
| Fishermen corral and slaughter dolphins | In the remote village of Taiji, Japan a team of activists and filmakers witness and document activities deliberately being hidden from the public: More than 20,000 dolphins and porpoises are being slaughtered each year and their meat, containing toxic levels of mercury, is being sold as food in Japan, often times labeled as whale meat. | Documentary: The Cove |
"The world today will either be stepping forward into an era where conservation and the environment really matter, or it will be stepping back into the Dark Ages, where the people of the world think that the slaughter of whales using grenades, electric lances and shooting them with rifles is something that we should accept. Ian Campbell, Australian Environment Minister - 57th IWC AGM, Monday, June 20, 2005
"If all nations in the world took 1000 whales each year, the stocks would soon be exhausted. What gives one nation the right to a larger portion of the resources of the planet that all nations hold in common?"
Sir Geoffrey Palmer, NZ Commissioner to the IWC.

World's Oceans once Teemed with Whales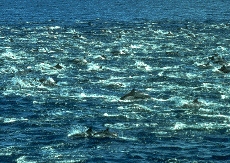 The oceans once teemed with many more now endangered marine mammals than previously thought, new genetic studies of whales suggest.
Whalemeat samples bought from a Japanese sushi market and analysed by scientists indicate that experts have seriously underestimated the size of the populations that roamed the seas before industrial- scale hunting began more than a century ago. The numbers of some species may have been 10 times greater than previously calculated.
The findings refute suggestions by whaling nations such as Japan that a resumption of hunting is justified by the increase of many whale populations beyond their natural size, the researchers said. . .

Norway's Whaling Defies Logic

Norway maintains its quota of previous years to hunt up to 1,286 whales in its waters in 2015, despite whalers repeatedly catching less than the limit.

Despite declining sales, government subsidies continue to keep a small number of fishermen hunting in the summer. While whaling is unnecessary, uneconomical and unquestionably cruel Norway has aggressively fought to retain its right to hunt whales.

In Norway, where whale meat used to be considered a poor man's dish, whalers struggled to reach the quota in 2014 with only 729 whales harpooned, according to official data.

The hunting season goes from April 1 to September 30.


Norwegian whaling ship with a minke whale butchered on deck. Photo: WSPA/EIA
How Modern Norway Clings to its Whaling Past

Produced by the Animal Welfare Institute (AWI), OceanCare and Pro-Wildlife, details Norway's undermining of the International Whaling Commission (IWC) ban on commercial whaling and exposes the growth of its overseas trade in whale products
| | |
| --- | --- |
| Whales killed annually since Norway resumed commercial whaling | |
The 'Grindadrap' - Faroe Islands Declare WAR on Whales

Video: Ross McCall - Actor, screenwriter, filmmaker, activist
More than 1000 long-finned pilot whales are killed in the Faroese Islands, a Danish protectorate, every year by wealthy islanders, who have no subsistence need for whale meat but to consume it as a cultural prerogative.
The hunt, known as a "grind," is horrifically cruel. North Atlantic and migratory North Sea Pilot whales are driven into shore by fishing boats, then roped and hauled on until they beach themselves.
Actor Ross McCall, in his Huffington Post article says, "Truthfully, I've looked, I've listened. I've allowed people to voice their side. A high percentage claim to be indifferent about the Grind. Fine if it continues, fine if it ends. But, for the staunch supporters, it ultimately comes down to the fact that this is something the whalers and locals enjoy. Something that gets the aggression out. And something they seem petrified of letting go". . .