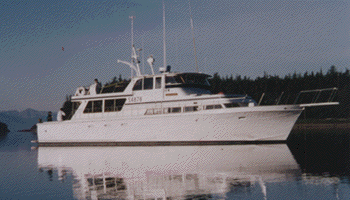 Ocean Ranger Charters
Juneau, Alaska
"Cruising Southeast Alaska"
Ocean Ranger Charters
6744 Gray Street, Juneau, Alaska, 99801
Telephone 1 800 233-2033
Fax 907 586-4901
We travel south to Frederick Sound where there is more whale activity and very few boats. It is not unusual to have 50 whales in view at any one time.

We do our best to not disturb the whales but boats drift and whales are curious about boats. We use our small boat for guests who need a closer view and for photography.

Peak viewing - from mid July through September

Also - Salmon and Halibut fishing and ofcourse the unmatched beauty of Southeast Alaska.

"A Truly Unique Experience"
---
Back to WHALE WATCHING menu